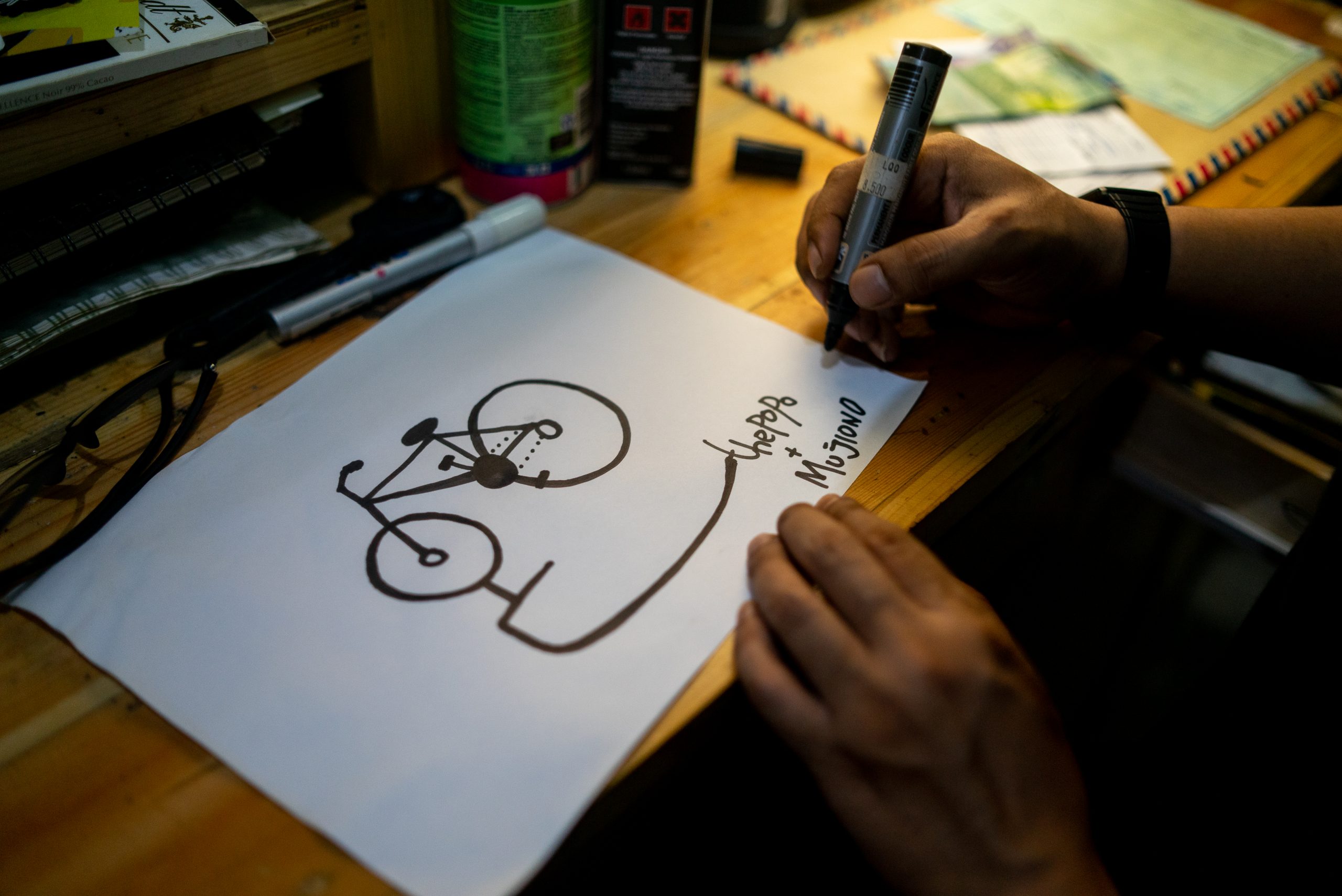 Popo revealed that drawing has been his way of communicating his feelings since he was in Elementary School. Although later on he was discouraged to study Arts, his passion for arts never waned.
In fact, Popo believed that his non-art background gives him freedom to choose his personal style. Many would note that Popo has a tendency to capture social issues in humorous, satirical, and ironic way in his works. Largely famous for his grafittis and murals, he actually has numerous experience in experimenting with different approaches: fine arts, contemporary arts, up to urban arts. The opportunities to work with different media for different audiences would be embraced as chances to research and explore.
However, he acknowledged that he's always drawn to visuals that are inescapable yet go unnoticed in daily life. Street food ballyhoo, drawings on trucks, drawings on becak,  they're all intriguing ways of communIcations: proofs that Indonesians have a rich visual language. It seldom has a strict written system; yet it involves a loud guidance. Some are simple, some amusing.  But they all have one thing in common: an expression of feeling.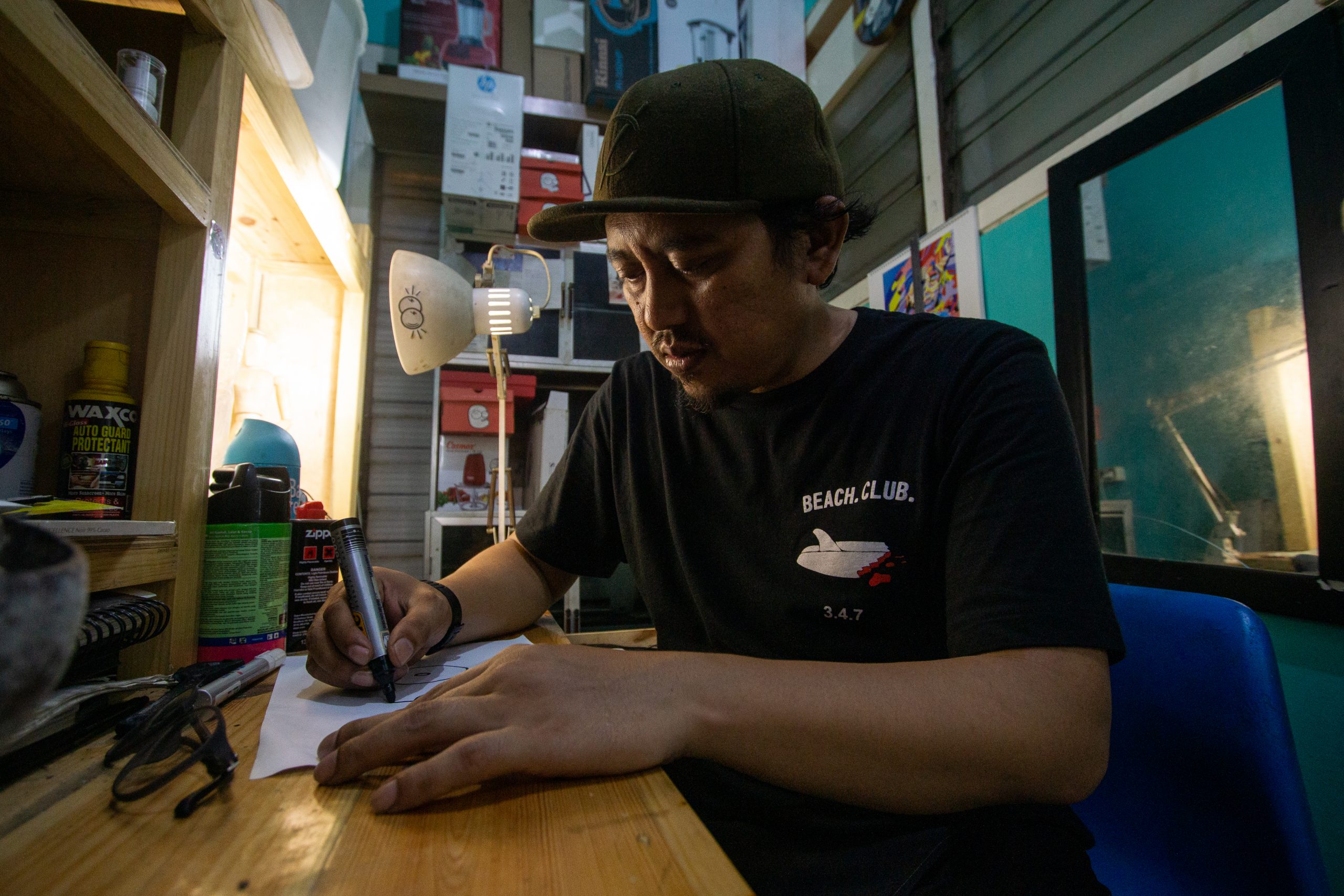 His working process usually starts with a regular activity.  Something that he sees, hears and feels.  Some examples are his grafitti/mural on a wall in TB Simatupang (Jangan Pucet Lihat Jakarta Macet – Don't Be Shocked to See Jakarta's Jammed) ) or in Asemka (Hidup adalah Mainan – Life's A Toy) or in Antasari (Demi Flyover, Pohon Game-over – For Flyover, Trees are Game-over). His works, thus are mostly site-specific, always have locality context in them.
Asked about his key to success, he said, ' I always work together with the space where my works will live.  When creating something, I always relive a story that exists there. Therefore, it's always real and not a pretense.  This might be the reason why my works get significant exposure in social media.  People feel represented by what I draw and write.'
In his process to produce an art piece, he's seen many people, talked and listened to many of them and hoped that his works bring JOY.  That's what Popo chose to display in our collaboration. Being joyful or happy should be the manifestation of life.  Hence, any work that we do, any efforts that we make, any products that we use should make us BAHAGIA.
This collaboration between The Popo and MCC started from a mutual respect.  Popo admitted that he said yes to this project because he likes what MCC has been doing: the attentiveness of the product development and the passion poured to the cycling scene itself. While for MCC, it's a privilege beyond belief.
Added to his list of accomplishment is cooking skills. As odd as it might seem, Popo finds cooking a medium to channel his thoughts. In cooking, Popo said, he gains many liberating, immaterial returns. Clearly, his diner warpopski is something very dear to Popo, as he calls it kitchen lab, a place where discoveries are made. It is not unusual if he finds ideas for an art project when he cooks. His diner has gained many loyal customers, thanks to his signature dishes and his unusual communications. As pawangdapur, his responses to public are quirky and comical, yet showing closeness and amiable personality of Popo's.
Talking about cycling, Popo said that he's been cycling for as long as he remembers. He started a long time ago because his condition forced him to do so and continues cycling now because he likes it. He thus cycles for its functionality and practicality instead of its 'cosmetics' elements.