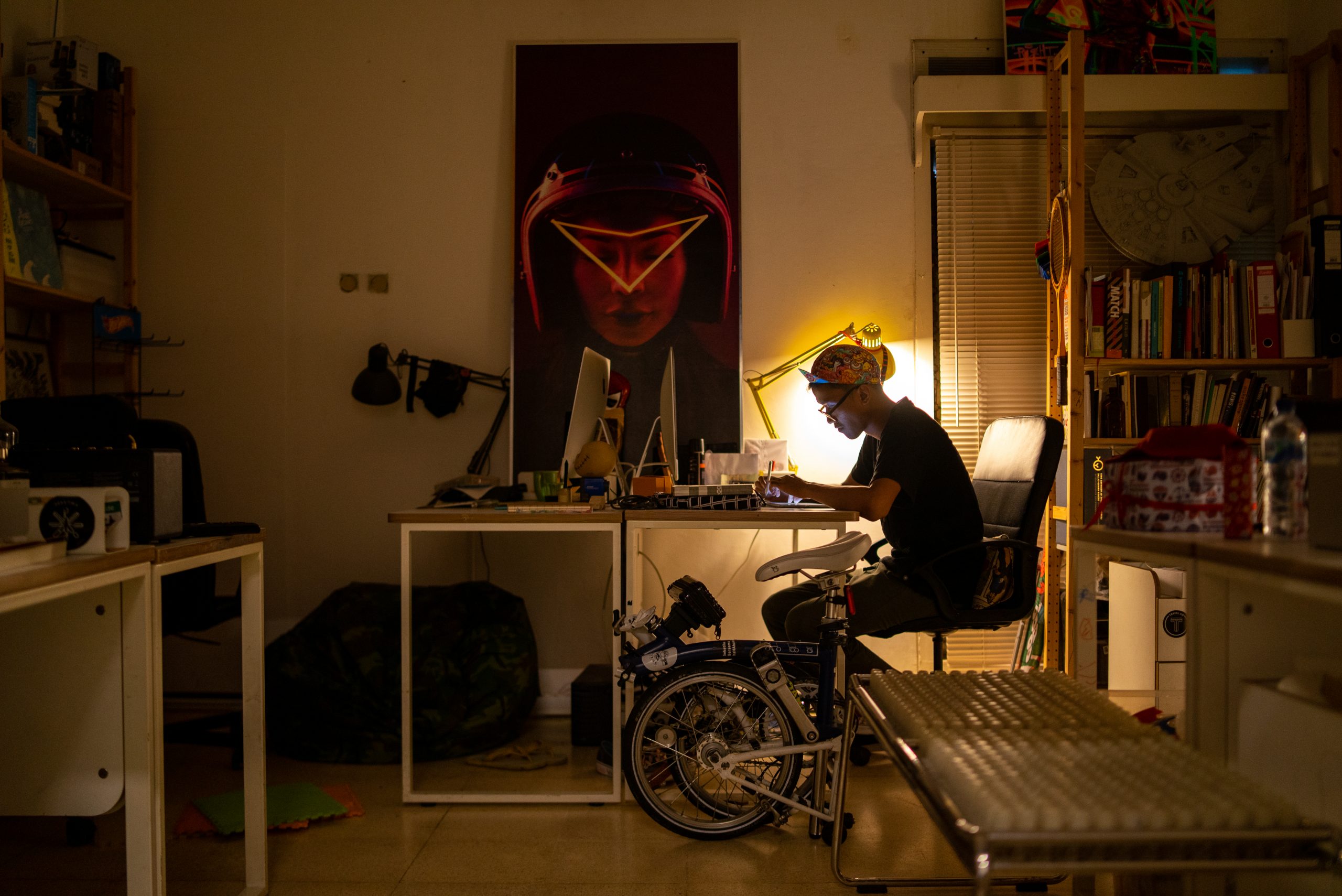 He is a young and promising artist based in Yogyakarta, and his signature style has landed him in numerous commissioned artwork and exhibitions in different cities. Having Visual Communication Design as a background, he mostly works with digital imaging that is later applied into different art medium
Back in the September 2017, we had a chance to collaborate with Mahaputra Vito. The collaboration started from the idea of combining artwork and technical applications. Turned out that this project was probably the most time consuming collabs so far. One of the most intriguing aspects of this collaboration is the process of trying out new methods and application.
Built reversible and embedded wid reflective, the cap series featured Vito's artwork titled 'SORRY HERMES I RIDE A BIT FASTER THAN YOU'.
The artwork questions how Hermes (the God of Speed in Greek Mythology) will be seen slower if he has to compete with cyclists in this modern era. 'High Speed Low Risk' is actually the underlining message from Vito.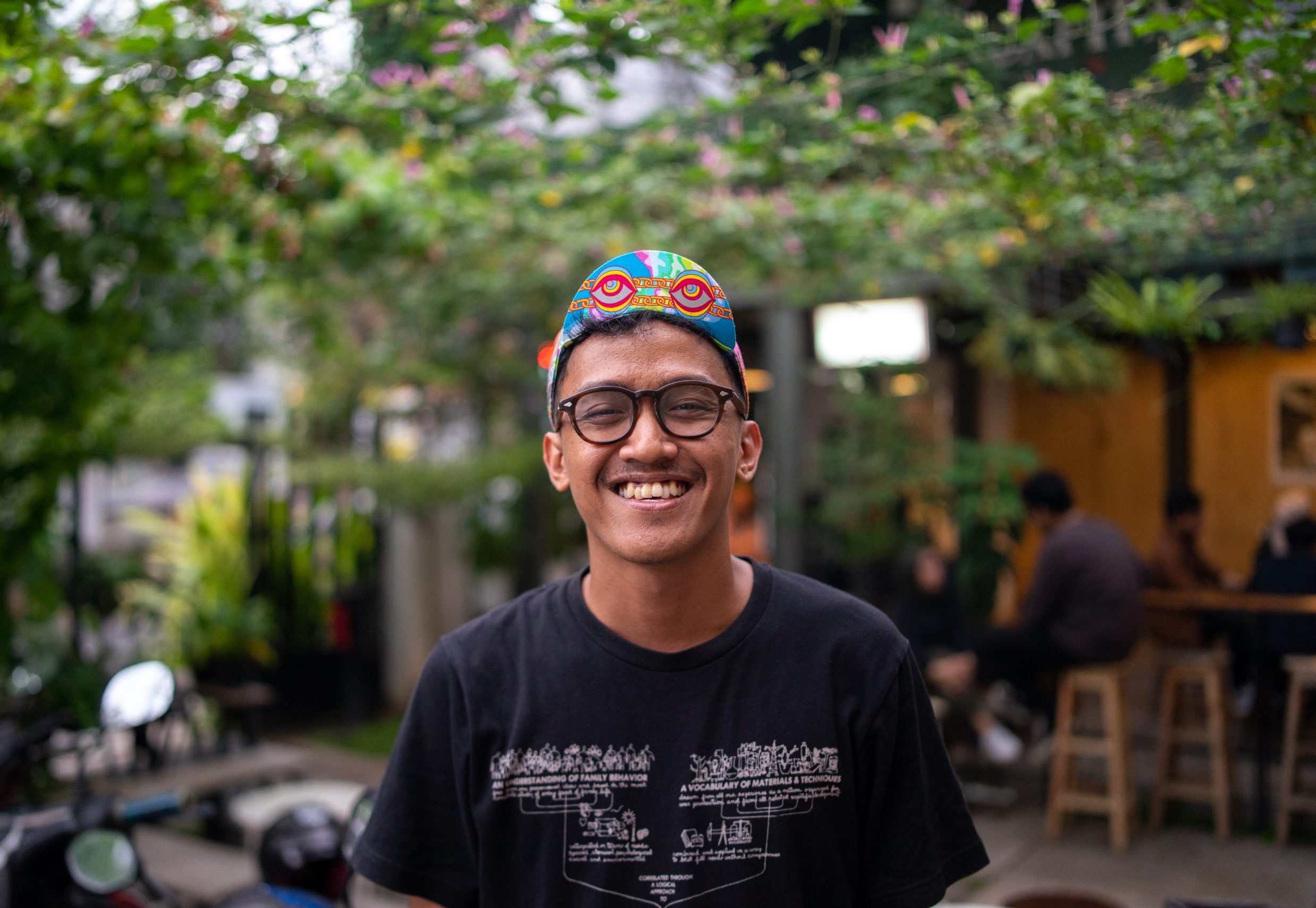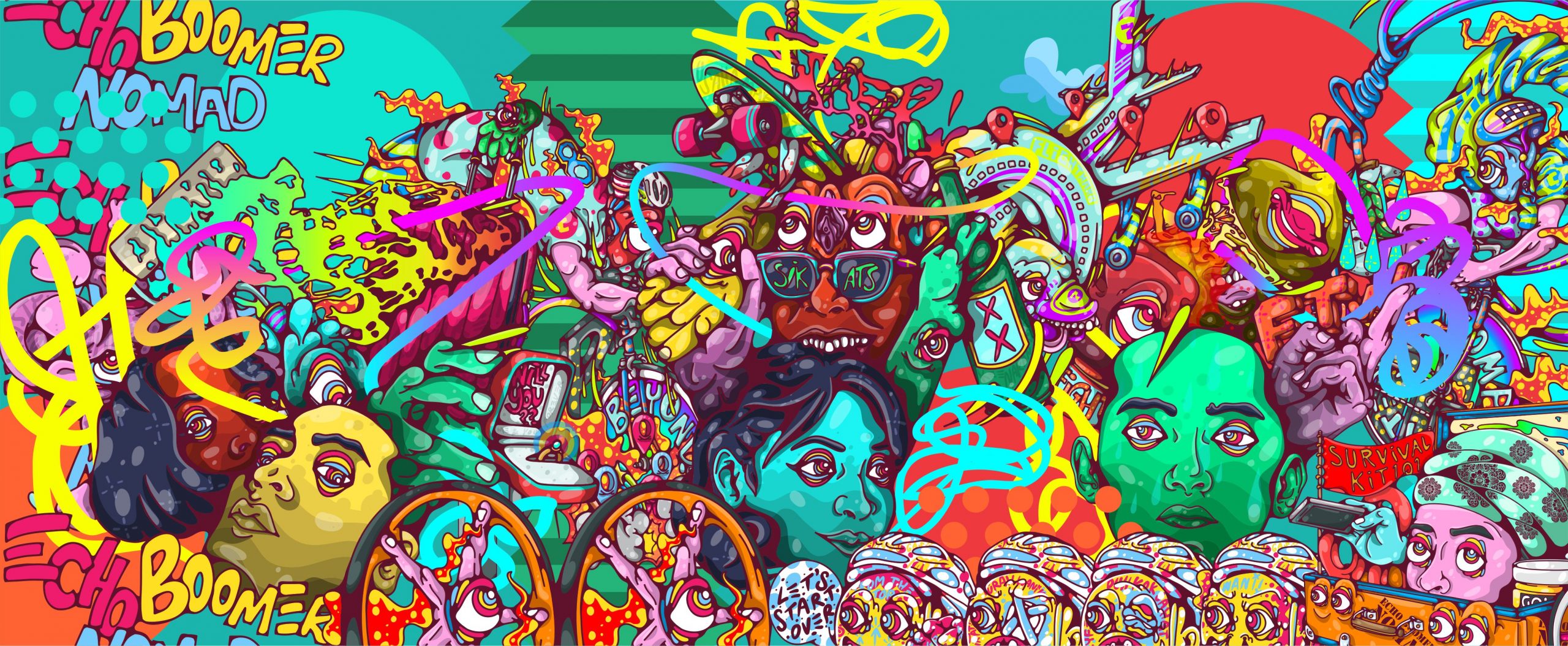 Recently residing in Jakarta, Vito spent some time to have a conversation with us. And here's the recap;
Mas Vito, what have you been up to these days? Other than working in art, are there any hobbies that you pursue?
I happen to start working at a creative studio that belongs to my best friend; so mostly my activities would be working at the office. The rest would be busy finding spots for coffee, breakfast, and working on my personal projects.
I'm presently pursuing on some hobbies: sleeping soundly, watching movies, and cycling for sure, hehe…
Mas, since you are keen on cycling, could you tell us your favorite cycling destinations?
My favorite destinations…hmmm, obviously cities with great breakfast meals and coffee. But specifically I always miss cycling in Jogja.
Let's move on to a more serious topic mas, haha.. How long have you been involved in art world?
Well, I was plunged into art professionally around six years ago, I guess.
Which public response towards your works was the most memorable?
Talking about that, actually there was a personal and one collaboration project. The first one was echo boomer nomad. My first residence in Ruang Seketika was to create artwork modular system where I tried to solve a problem of carrying work while traveling, which led me to my first exhibition abroad.
The second one was my first collaboration with MCC; and from this collaboration I started to know and finally plunged into the world of real cycling, which is a good thing since I've met many new friends hihi….
A successful artist is identical with idealist, genius (to the level that not everyone understands) figure, rich because his artworks are highly quested, famous but lonely. Do you agree with it?
Not really… if being idealist is in context with being pigheaded and won't listen to others, what's the point…. But being genius yet no one understands is also non sense, because it means what he's trying to communicate doesn't reach the audience. I think successful artists are seen from the impact they give to their surroundings, how they can inspire others from things they do, and definitely fluid with their environment so they are supposedly not lonely. Hehehe…. Oh, another thing is, successful artists live while they are on their prime; if they become successful after they die, then they are simply commodity, hahahaha…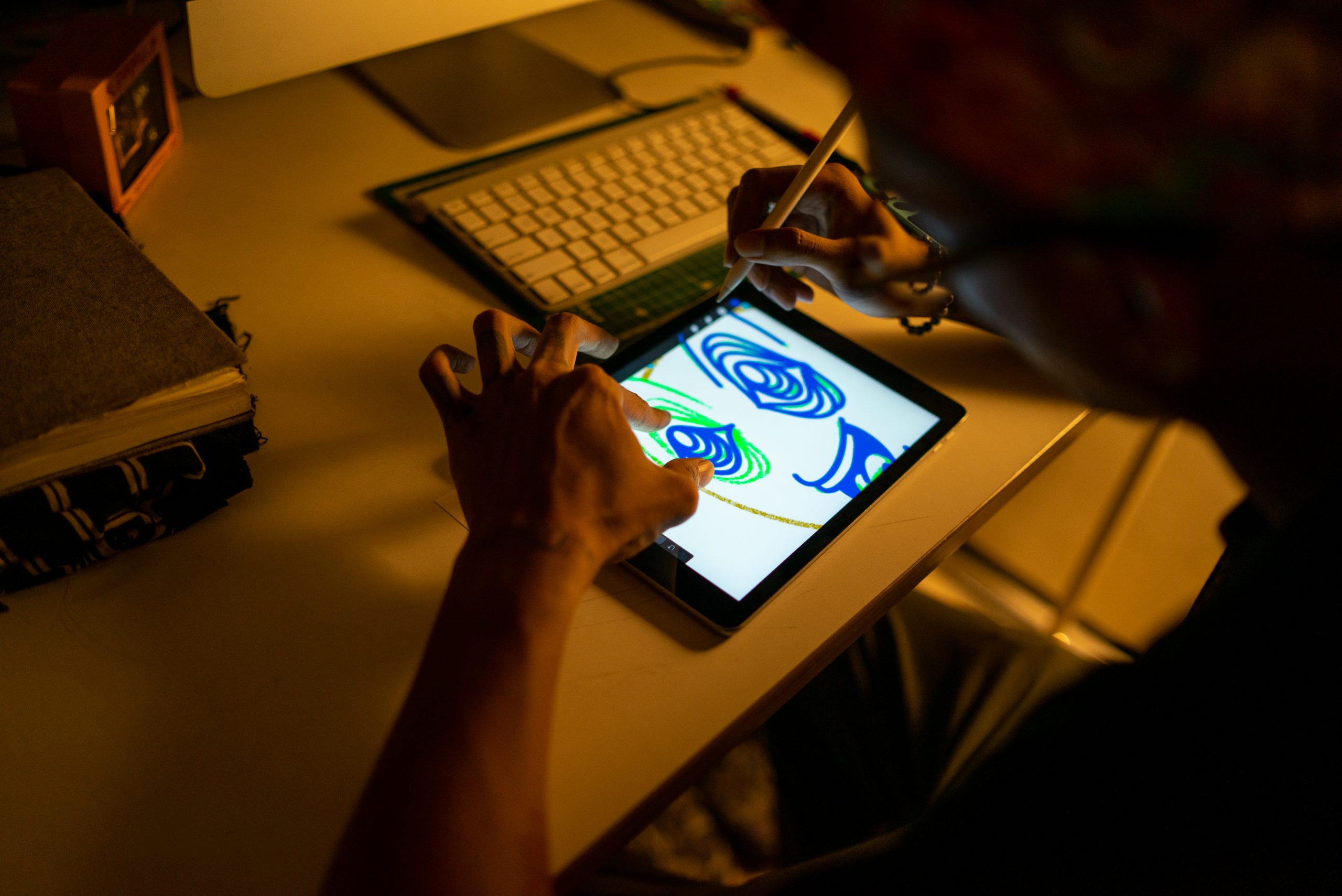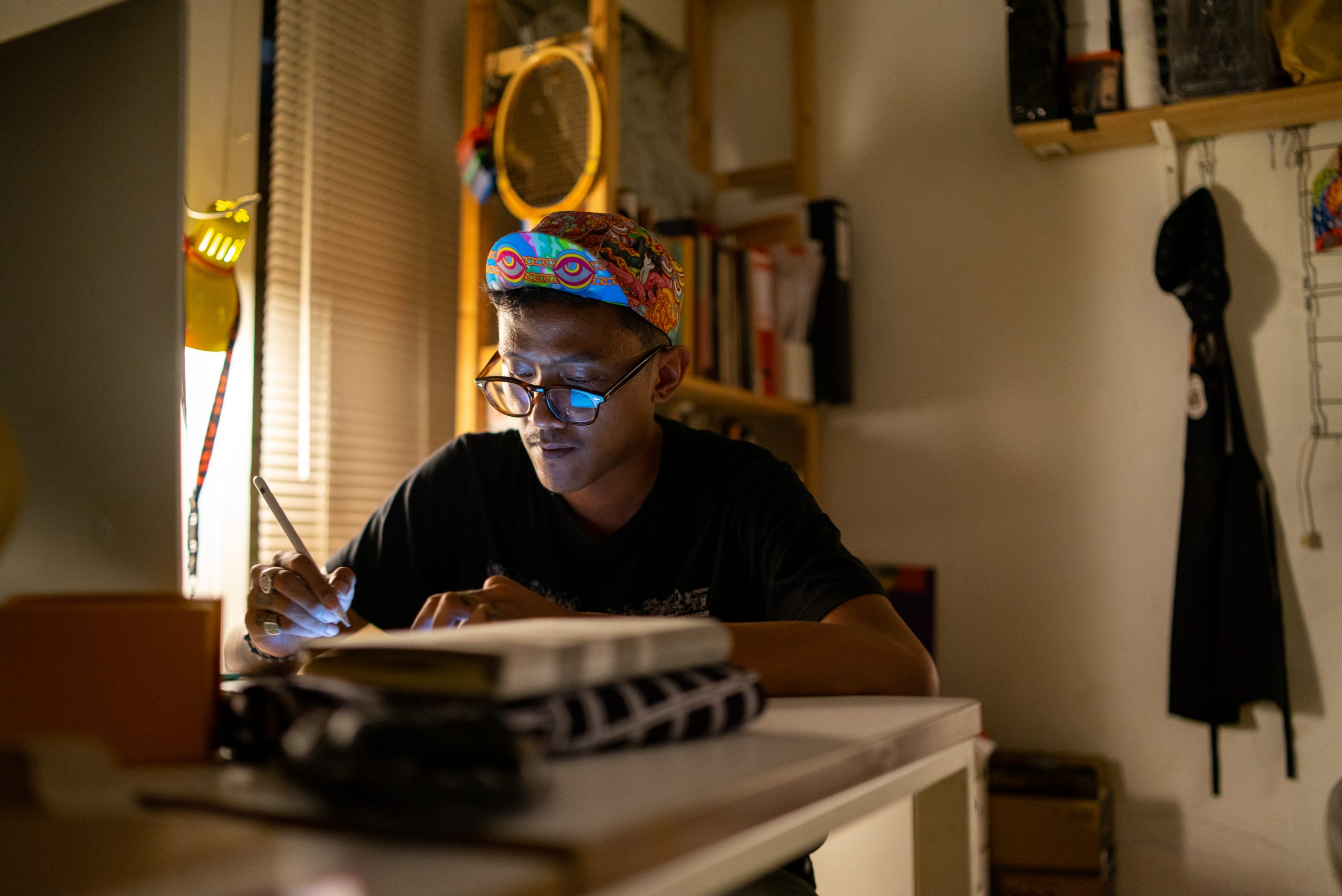 Mas Vito, you showcase a signature in each work; is it possible that perhaps one day you will leave off your present character?
Hell yess! Actually, each year I somehow change slightly. That signature is the matter of comfort, and comfort is dangerous. In my opinion style might be a form of laziness that some how just stop us from developing.
Currently art x industry collaboration trend is really happening. Do you think there are more positive or negative sides for art enthusiasts?
Clearly there are more positive impacts since public are more exposed to artworks. Art is not such a creepy thing and everybody can have their own piece of artwork. For the artist himself it is convenient, familiar, and well communicated; which in the end it means ca-ching..money..money..money… hihi
For artists, is it essential to have references?
It surely is. They say nothing is new under the same sun. Everything recorded in memory becomes references whether we realize it or not.
Have you ever thought of jumping ships to other than art?
Hmmmm… It really is a tough question actually…hahaha. I do wish to have other things apart from art one day; so that art is obviously fun for me again.
A must-ask question now. Why would you collaborate with MCC?
Because I'd never done that before! Hehehe, there's always excitement from new things for me. I don't really care about the outcome but I'm sure it is one hell of fun process!
If you could pick anything, anywhere, and with anyone, what art project do you wish to work on in the future, Mas Vito?
Hmmm… I'd like to collaborate with my favorite brands if given the chance. Other than that I'm open to be a collaborator with anyone an on anything. But one thing on top of my mind is I really wish to collaborate with footwear brand. I believe it will be exciting.